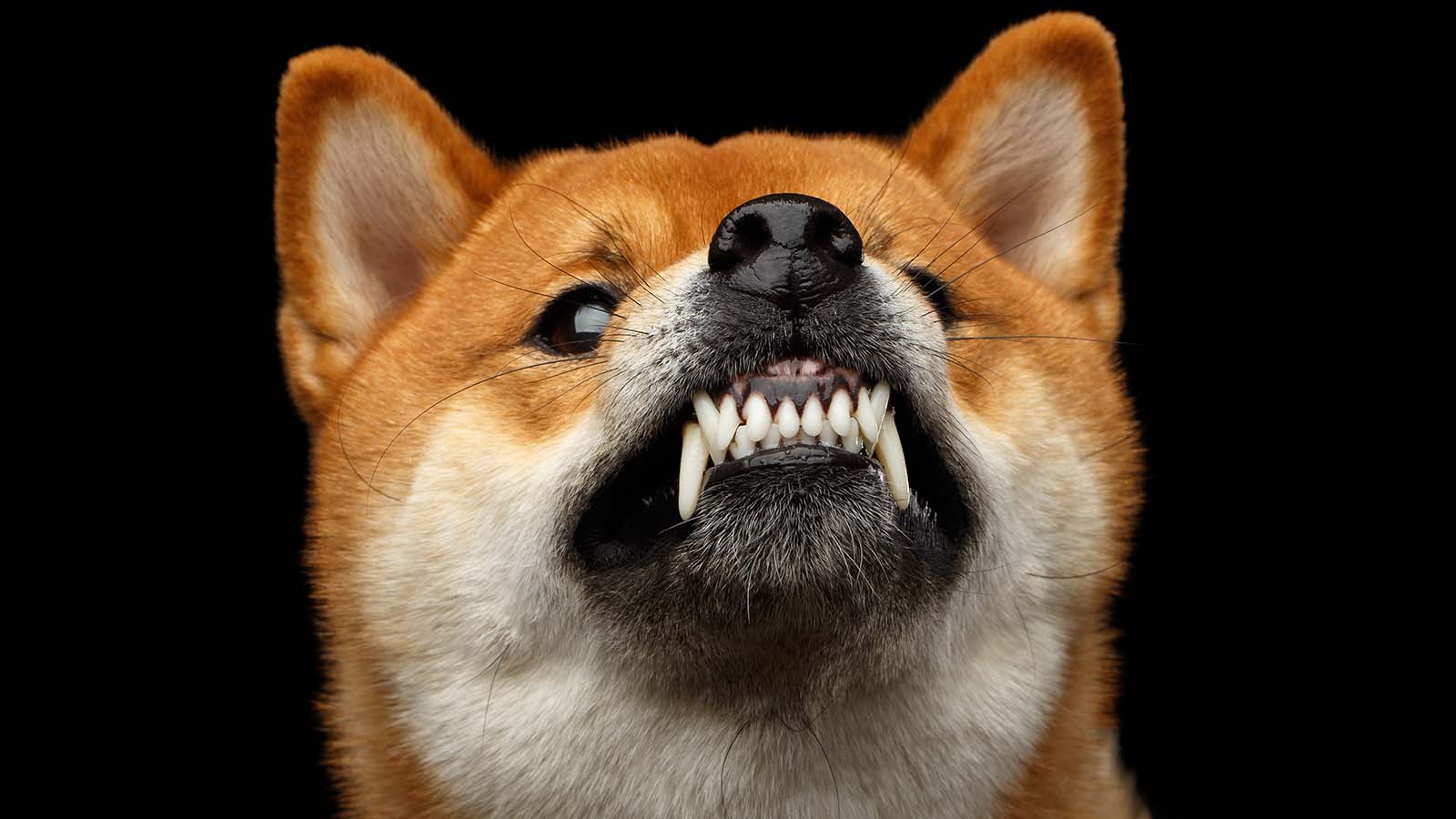 There's dumb. And when it comes meme-crypto Shiba Inu (CCC:SHIB-USD), now there's dumber. But for traders willing to throw their Benjamins or Renminbi away, misery is certain to have plenty of company.
Let me explain.
What's a couple pennies among traders? It could be slippage. And most often it is. But that's not even the half of it — or rather, any part of it when it comes to SHIB coin. The reason is the recent crypto entrant fetches a fractional .0000068 of $1.00. Yup, that's not a typo.
A Quick Look At Shiba Inu
I'm reminded of Bitcoin's (CCC:BTC-USD) first infamous transaction for two pizzas more than a decade ago. Today that would require 2,588,235 SHIB tokens for a non-inflationary, crappy store-bought cheese pie at $7.00 each.
Add some pepperoni or mushrooms to the two pizzas and a purchase in Shiba Inu would require another virtual truck to deliver payment.
But that's purely hypothetical for the so-called "Dogecoin (CCC:DOGE-USD) killer."
The thing is and unlike Bitcoin or Ethereum (CCC:ETH-USD) and a few other cryptos offering modest utility today to a select few businesses and institutions and even fewer individuals — SHIB has no purpose.
Zero. Nada. None!
Oh wait, now I've gone too far? What about Shibu Inu's aim as a Dogecoin killer? Sorry. The first was the original dumb crypto investment given a coin fathered by developers admitting Dogecoin was intended as a joke.
Wait one minute! What about the recent development SHIB is now an accepted payment method for increasingly popular, one-of-a-kind digital collectibles known as non-fungible tokens or NFTs?
Maybe I'll be eating my words in a few years, but it's doubtful. And today I still believe it would be challenging to find a dumber risk asset than Shiba Inu to defend. OK, other than possibly NFTs themselves.
To walk the aisle and keep an open mind … well kinda sorta … there are some investment professionals other than meme traders buying into junk coins. They see things a bit differently in SHIB.
Ben Caselin, head of research and strategy at crypto exchange AAX says the trading in SHIB coin shouldn't be ignored despite its shortcomings. And the reason is priceless.
According to Ben what we're witnessing in Shiba Inu is "the mass movement of traders new to crypto moving into the space." And those actions reflect the behaviors of a new, growing class of cryptocurrency traders.
Alternatively, there's dumb and dumber or Dogecoin and SHIB. But I suppose in Ben's defense, trading of any kind is obviously good for business.
Shiba Inu Weekly Price Chart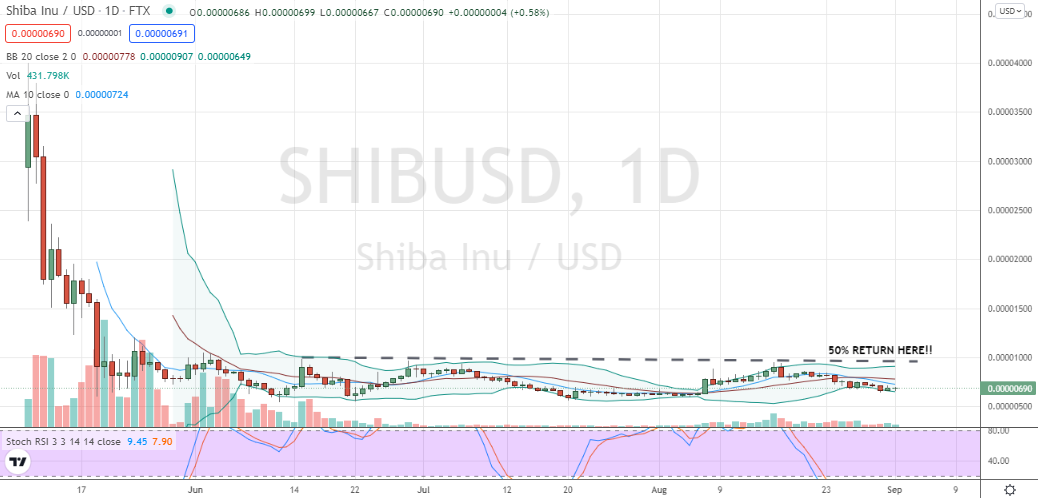 Source: Charts by TradingView
Are you that desperate? That's what comes to mind when I look at the daily price chart of Shiba Inu. Understandably though, the lure for those willing to be so hopeless as to buy SHIB-USD is of course right there.
As the illustrated chart temptingly reveals, today's buyer of SHIB for .0000068 could reasonably expect to make 50% with just the tiniest bit of cooperation from what's been a dog of a crypto. Right? Yup.
And if the token manages a breakout above lateral resistance — then the sky is the limit? YOLO!!??
I'm not holding my breath, though it might help with the stench SHIB has already burdened its existing meme-loving fanbase with.
In closing, Shiba Inu isn't a crypto worth even a speculative allocation of 1% to maybe 2% of one's portfolio capital. That's not to say investors that ignore today's warning won't profit from a position in SHIB.
Ultimately, the market can be a whole lot dumber than I'm willing to give it credit. And appreciatively, that's after a year which has ushered in thematic meme trades left and right, pushed the boundaries of what's possible in risk asset prices and pushed to the limit the idea of investors being prudent.
On the date of publication, Chris Tyler holds (either directly or indirectly) positions Grayscale Bitcoin and Ethereum Trusts (GBTC, ETCG and ETHE). The opinions expressed in this article are those of the writer, subject to the InvestorPlace.com Publishing Guidelines.
Chris Tyler is a former floor-based, derivatives market maker on the American and Pacific exchanges. For additional market insights and related musings, follow Chris on Twitter @Options_CAT and StockTwits.